How it works
The way Komak works is simple:
1. Download our app from Google Play (coming soon) or App Store
2. Choose your role – volunteer or person in need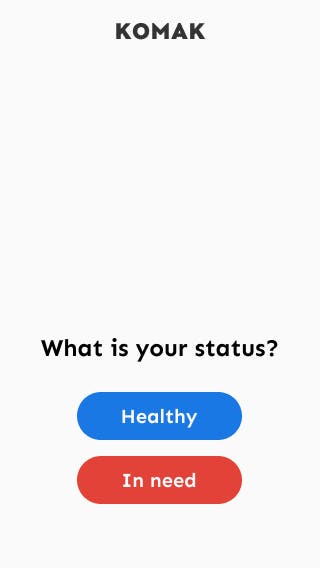 3. Fill in your account. We're only requesting the minimum amount of information necessary for our app to work. We're not interested in storing or using your personal information.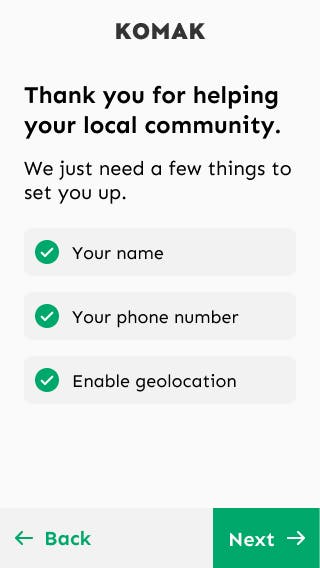 4. Important! Read our Terms of Service and our User Instructions carefully. You need to give consent and follow our recommendations to ensure that we are truly protecting the ones in need. Healthy consent is only required for volunteers as we want to make sure that volunteers do not bear the risk of infection to the people in need.
Comment: We understand that some of the user instructions we give here might seem a bit annoying or "overkill", but the health and safety of everyone involved is our number one concern. We've worked with medical professionals to make sure we cover all possible risks that you're exposing yourselves to in helping out the people in need. As a consequence, following our guidelines also reduces your own chance of contracting the virus.
5. After reading and consenting to the T&Cs and User Instructions, you're set to go.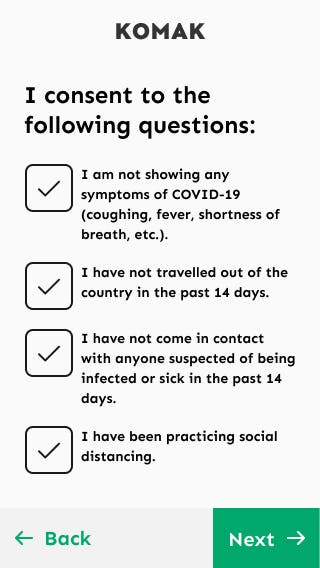 6a. People in need – you can now add a request for help. If there's a volunteer nearby, you'll be matched right away. If not, we'll continue to search for nearby volunteers for 24 hours.
6b. Volunteers – go about your day and keep your phone close – we'll search for people in need in a range of 3 km (±2 miles). We'll send you a notification as soon as someone needs help in your area.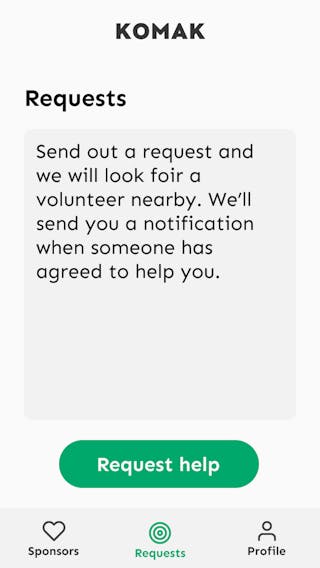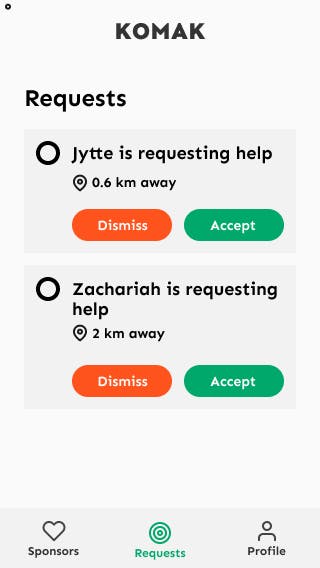 7. Once matched, you'll receive each other's contact details. Please establish communication over the phone or text to understand what the task at hand is.  Be nice, we're sure that in these times of isolation anyone could use a bit of human interaction. You could even make a friend!
8a. People in need – please be as clear as possible, and be considerate with regards to volume and weight. Communicate which store or brands of groceries you prefer, any food allergies or dietary restrictions, as well as when you would need the groceries.
8b. Volunteers – please be considerate and try to agree on a set of rules: when you're going to bring the groceries, try to stick as much as possible to the request.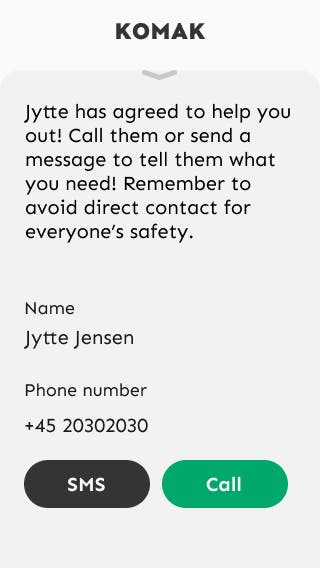 9. With regards to payment, options will depend on where you are from. 
– It would be ideal if the person in need could call or use an app to request the groceries and pay for them online or over the phone.
– If you plan on having the volunteer pay up front and to reimburse digitally, the volunteer should take a picture of the receipt and request payment
– If you must use cash, pay extra attention to the safety instructions, and provide the payment before or after the groceries have been done, we trust you to establish this protocol between the two of you
10. Follow our user instructions to ensure safety. Remember to maintain distance and minimize direct contact.